Fine Old Master and Modern Prints & Drawings
Fine Old Master and Modern Prints & Drawings
ALBRECHT DÜRER, LUCAS VAN LEYDEN, JACQUES BELLANGE, GAETANO GANDOLFI, GIOVANNI ANTONIO CANAL, BERNARDO BELLOTTO, and OTTO MUELLER
Stanza del Borgo specializes in works by the principal Old and Modern Masters like Dürer, Schongauer, Rembrandt, the Tiepolo Family, Goya, Piranesi, Fattori, Pissarro, Whistler, Signorini, Picasso, Chagall, Gauguin and Morandi. Exhibited here is a collection of works by Albrecht Durer, Lucas Van Leyden, Jacques Bellange, Gaetano Gandolfi, Giovanni Antonio Canal, Bernardo Bellotto, and Otto Mueller.
LUCAS VAN LEYDEN (1494 – 1533) THE VIRGIN AND CHILD WITH TWO ANGELS, 1523
GAETANO GANDOLFI (S. Matteo della Decima 1734 - Bologna 1802), STUDY OF HEADS
GIOVANNI ANTONIO CANAL (IL CANALETTO),
LE PORTE DEL DOLO, 1743/4, Etching

GAETANO GANDOLFI (S. Matteo della Decima 1734 - Bologna 1802), STUDIES OF HEADS
VUE LATERALE DES GALLERIES DU ZWINGER, AVEC LE PONT, QUI DEGAGE VERS L'ALLÉE D'OSTRA ET VERS LA PORTE DE WILSDRUFF, PRISE D'UNE DES SERRES DE L'ORANGERIE ROIALE
VIEW OF DRESDEN WITH THE DITCH OF THE ZWINGER
BERNARDO BELLOTTO
Venice 1721 – Warsaw 1780
55,6 x 83,3 cm at the platemark; sheet 56,9 x 84,8 cm
Inscribed at the top left corner in brown ink 'N….'.
Etching, signed and dated in the plate at bottom right.
De Vesme, p. 500, no. 21 II/III; Kozakiewicz p. 128, no. 160 II/II
A brilliant, superb impression on paper with watermark 'Ravenspurg'. In fine condition, with small even margins; the usual two vertical folds hardly noticeable on the recto. This is a very early impression, still showing little trial etchings in the margin of the plate outside the borderline.

For another impression see the British Museum Collection (accession number: 1861,1214.436).
We know three paintings of this subject, the first, exectuted ca. 1749 – 1753 is at Dresden Staatliche Kunstsammlungen, Gemaldegalerie Alte Maister, inv. No. 609, K. 157.
The second, executed between 1749 – 1752 is at St. Peterburg, K. 158.
The third (ca. 1758), K. 159 is at Bonn.


Literature:
(accession number: 1861,1214.436)
BERNARDO BELLOTTO
Venice 1721 – Warsaw 1780
GALERIE ET JARDIN DU COMTE DE BRÜHL, À DRESDE
To the platemark: 542 x 842 mm; sheet 586 x 880 mm
Etching
De Vesme I/IV, Kozakiewicz no. 144, I/III
Inscriptions: Perpective de la galerie, et du - Jardin de Son Excellence Mgr./ Le Comte De Brühl Premier Ministre et_ des bátimens contigus a La prairie d'Oster, / prise de La maison du Sieur Coinseiller Hoffman à La Ville Neuve._ Ce Tableau fait par ordre de Sa Majesté Le Roy De Pologne et Elec. de Sax. &. &. &. ...
Lettered with title, reference to the original painting, and signature Peint, dessiné et gravé par Ber: Bellotto del Canaletto 1747.
A brilliant, very fine impression, of the first state of four (De Vesme) and first state of three (Kozakiewicz), before the arms were etched on the same plate. Printed on Venetian paper of XVIII century with watermark Pine Cone…
In fine condition with regular margins all around the platemark, which retains traces of ink, characteristic of the very early impressions.
Unobtrusive central vertical fold, visible mainly on the reverse.
View along the Elbe river, with the gallery of the garden of the Comte de Brühl on the extreme left with the church of Notre-Dame behind it.

Literature:
De Vesme, Alexandre, Le peintre-graveur italien, Milan, 1906.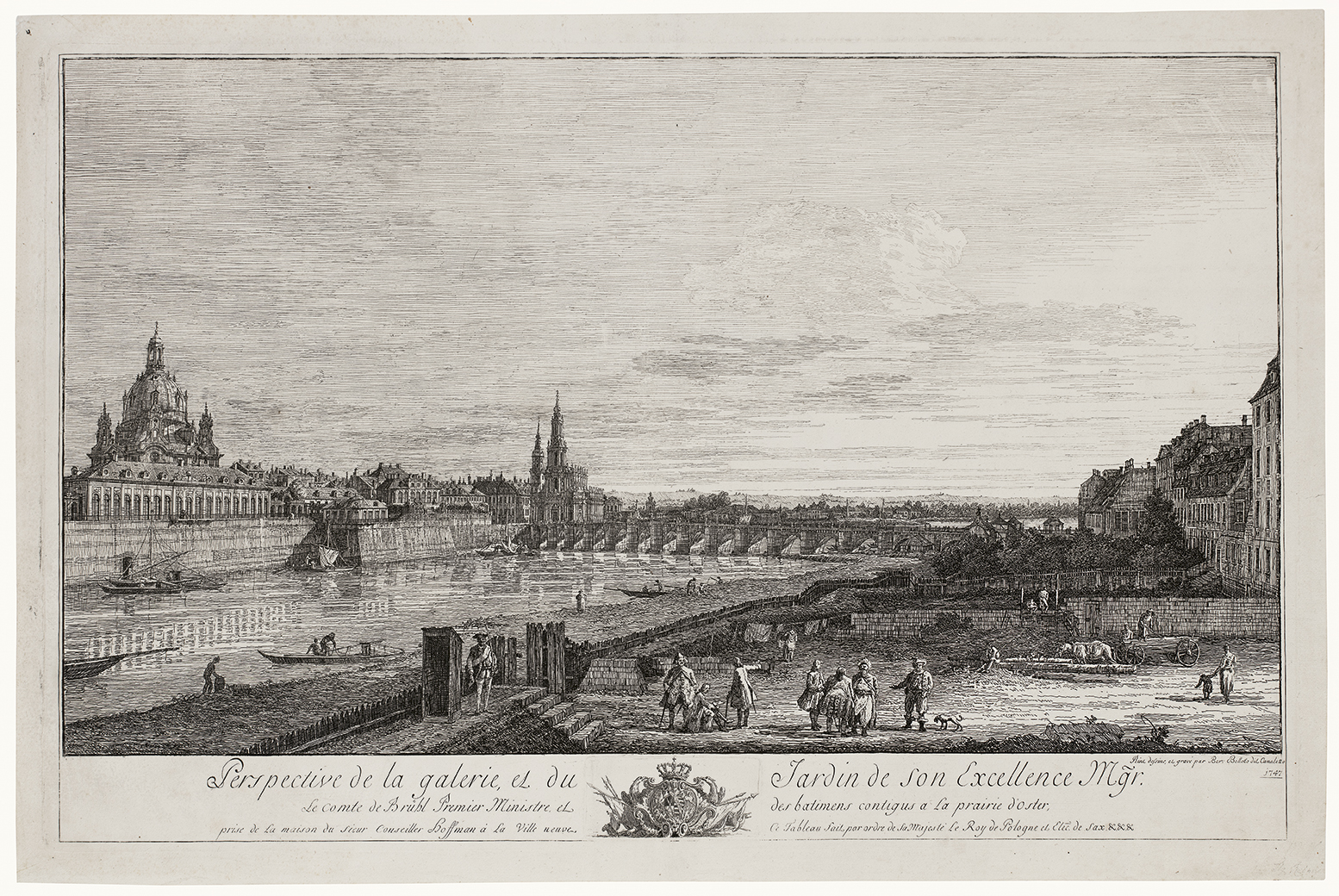 GAETANO GANDOLFI
(S. Matteo della Decima 1734- Bologna 1802)
Pen and brown ink.
Signed in pen and grey ink at the bottom right corner G. Gandolfi.
The drawing, in fine condition, is a remarkable example of Gaetano's mastery in the execution of the Capricci di teste. The genre, widespread in the eighteenth century, offered all three artists of the Gandolfi family the opportunity to draw elegant and harmonious groups. Gaetano excelled in this genre, to whom he also dedicated numerous etchings. Precisely in the rigorous construction of the image with points and lines, our sheet reveals close analogy with the technique used in the engravings.
References:
Prisco Bagni, I Gandolfi. Affreschi dipinti bozzetti disegni, 1992.
Aa. Vv. I Gandolfi. Ubaldo, Gaetano, Mauro. Disegni e dipinti, 1997.
Fausto Gozzi, Ubaldo, Gaetano e Mauro Gandolfi: Le incisioni, 2002.
OTTO MUELLER
(Liebau 1874 – Breslavia 1930)
WALDLANDSCHAFT MIT KLEINEN FIGUREN (2)
WOODBLOCK PRINT WITH SMALL FIGURES (2) (K. 74)

389 x 292 mm, sheet 500 x 380 mm.
Litograph, c.1919, printed in black and white on thin wove paper.
Signed in pencil lower right, numbered lower left 17/60.

Fine impression with large margins, small rustmark in lower left margin and minor time staining at the sheet edges, otherwise in very good condition.
Via Turati 7
20121 Milano, Italy